Elizabeth Frankenstein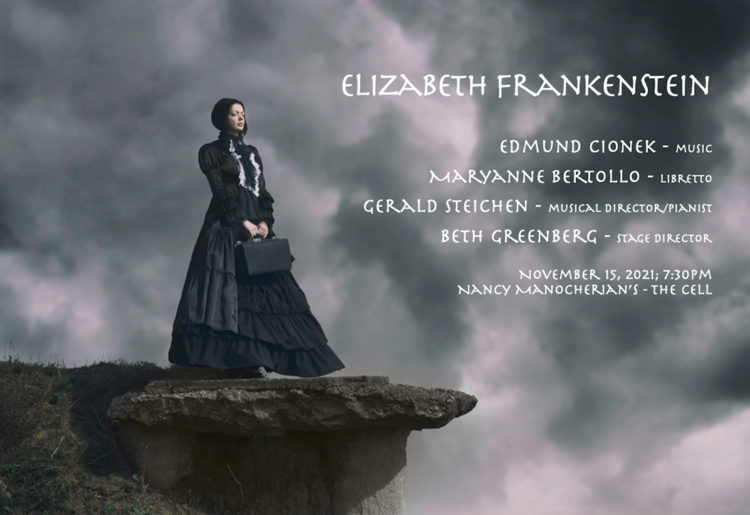 Elizabeth Frankenstein is a new opera in three acts, with music by Edmund Cionek and libretto by Maryanne Bertollo.  The premiere concert reading, with Gerald Steichen, musical director/pianist, and Beth Greenberg, stage director was at Nancy Manocherian's the cell theatre on November 15, 2021 and sponsored by Tribeca New Music.
Elizabeth Frankenstein, a 90-minute opera, is a re-imagining of the classic novel Frankenstein from the point of view of Victor's wife. Frankenstein was written in 1817 by Mary Shelley, an early feminist. However, most renditions of her enduring work focus on Victor's lust for creation and the chaos which ensues. Elizabeth Frankenstein allows the novel's foremost female character to step away from Victor's shadow into her own light.
Elizabeth is depicted as a strong-willed and unusually sensitive person; she gravitates towards Victor's genius as a match for her own intelligence and empathy. In the first act, she becomes engaged to Victor; in the second act they are married, then she is raped and murdered by The Creature, jealous of Victor's happiness. In the final act Elizabeth is a ghost who appears in the Arctic where Victor has gone to hunt down and kill his creation. She confronts both The Creature and Victor though the latter, poignantly, cannot see her. Elizabeth implores them to transform their worst impulses in order to bring forth a better world.
Elizabeth Frankenstein has several facets: the romance between a brilliant man and an equally brilliant woman; the tension of opposing forces–love and hate, violence and compassion, vengeance and reconciliation; and the testimony of a woman who though she loses everything retains her courage and her innocence. Above all the opera is original, entertaining and inspiring.
Premiere Concert Reading Cast
Natalie Ballenger, Soprano – Elizabeth Frankenstein
Blake Friedman, Tenor – Victor Frankenstein
Joseph Charles Beutel, Bass-Baritone – The Creature
Women's Chorus:
Charlotte Detrick
Jasmine Manley
Laura Virella
The music presently exists in a piano/vocal form. A small orchestration for five instruments is in progress. The cast numbers three principals and an ensemble of six.
Elizabeth Frankenstein was supported, in part, by public funds from the New York State Council on the Arts, with the support of Governor Andrew Cuomo and the New York State Legislature.
Librettist Maryanne Bertollo is a graduate of Bennington College and a resident of Manhattan. She has written several self-published novels, focusing on the lives of women in the 19th century. Maryanne's position in Development at the Metropolitan Opera has enhanced her love of the art form, and helped inspire her to create the libretto for Elizabeth Frankenstein. Witnessing the performance take shape was an incredible experience; though Elizabeth Frankenstein was her first libretto, she doesn't intend it to be her last!
If you wish to connect with Maryanne, please do so at:
https://maryannebertollo1.tumblr.com.
—
Maryanne Bertollo